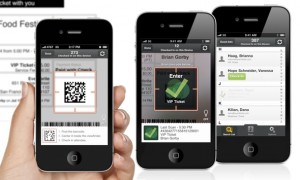 Eventbrite's Easy Entry iPhone application allows event organizers to easily check in attendees and view live event stats using an iPhone.
Attendees can be checked-in via a list/search screen, or by "scanning" an Eventbrite ticket using the built-in barcode-reader.
Event and attendee data is synced seamlessly across multiple devices through the Cloud. The app also supports checking-in attendees while offline, and will push and pull updates when the connection is restored.